Access criteria
SHP-E(NL) equitherapy training is open to applicants with a psychotherapeutic, educational or paramedic background, who also have a riding qualification or who at the start of their training have sufficient experience with horses (Llevel riding and training) and intend to acquire the vaulting instructor qualification during their training. Four different qualifications are available, depending on the student's basic education, professional experience and verifiable further training:

• Equitherapist
• Equitherapeutic assistant
• Equitherapy coordinator
• Activity supervisor EAA (Equine Assisted Activities)
Course requirements
: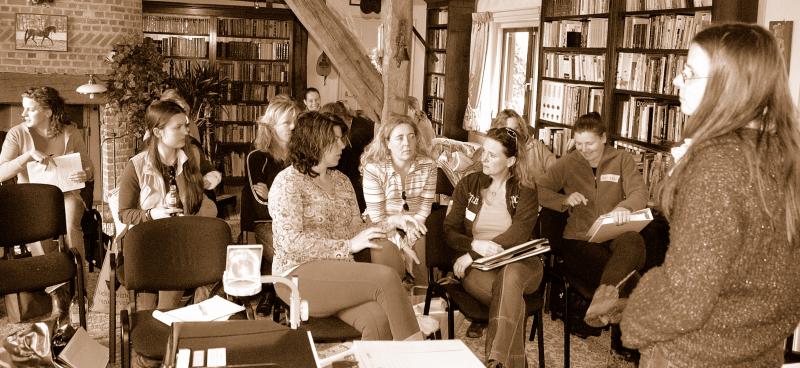 Applicants are selected during a two-day introductory workshop and subsequent individual interview. In addition to gaining an overview of the methods and course content, applicants also have an opportunity to work in small groups with the therapy horses during the introductory workshop. This gives applicants first-hand experience of whether the course's process-based approach suits them and whether they have sufficient experience of horses and of supervising processes in a professional capacity. During the interview the prospective applicants' formal qualifications and eligibility are examined in addition to their motivation and expectations: Applicants are also required to register
with SHP-E(NL), the umbrella organisation for therapeutic riding in the Netherlands, and must finally be accepted by the training commission.
The foundation course (1st year)
This consists of 9 two-day course modules and an exam module spread over one year with the same student group. The course is supplemented with theory, practical exercises, self-awareness and supervision. With additional reading and assignments to be completed in free time, students are required to successfully complete a practical assessment and an exam to pass the foundation course.Only students who have passed the exam and have a minimum 85 % attendance record for the modules can enrol on the second phase.

Advanced course with specilisation (2nd year)

This also consists of 9 two-day course modules and an exam module spread over one year with the same student group.

This course focuses on specialisation:
• remedial educational support
• psychosocial support
• developmental support
• rehabilitation and reintegration
• equine-facilitated psychotherapy
In this phase the trainee equitherapists work under supervision in their chosen field and are given the necessary tools to make significant use of the horse and horse-based activities, subject to their specialism and client, and to find their own way. This phase of the course is largely practise and supervision-based. Students must pass the practical project and theory exam and have an 85 % attendance record for the course modules in order to sit the final exam.
Diploma in equitherapy (SHP-E(NL):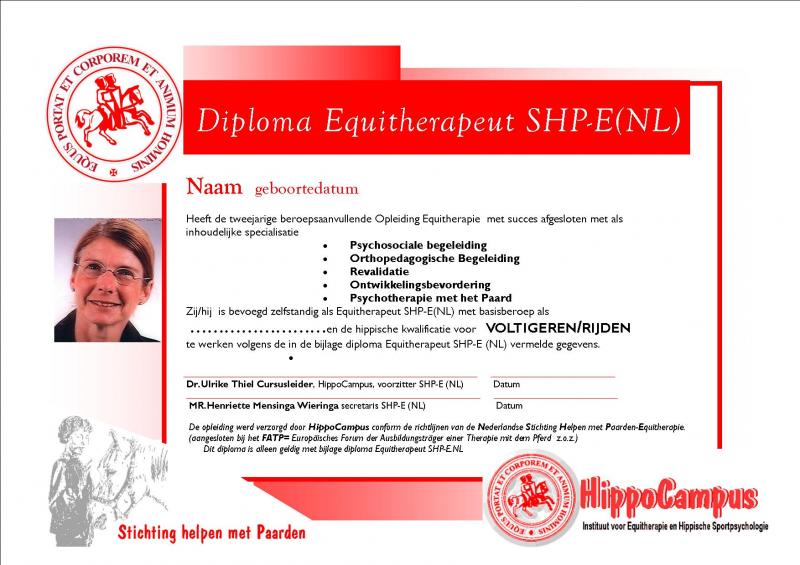 The SHP-E(NL) training commission awards the diploma to students who have successfully completed phase 1 and 2 of the training course, have attended all necessary supplementary modules and training courses and have a first aid certificate and riding qualification. A police clearance certificate is also required, as is customary for therapeutic professions.
Lecturers, supervisors and, examiners
These are graduate colleagues from other countries (currently mainly equitherapists and educators from FATP -affiliated organisations) with more than 8 years' professional experience, and training and experience in supervision and group dynamics, who also work as lecturers within their own organisations and are familiar with the guidelines and performance profile of SHP and support it.
Aim of the foundation and advanced course:
Understanding of the concept and transfer of own (theoretical) working model from primary profession to the triangular therapeutic relationship between therapist, client and horse. Understanding of ethical issues and compliance with SHP-E(NL) guidelines. Use of examplesprovided of successful equitherapy models from different fields. Awareness of the advantages and disadvantages of different methods. Defining the role of the horse within different models of Animal Mediated Therapy and Animal Assisted Therapy. Exercises, use of materials, objective development of exercises, equine technique and the role of the horse in the therapeutic process. At the end of the foundation course the therapist should have gained sufficient knowledge and experience in a safe classroom environment to work with clients and horses.

General topics
• Technique, therapeutic process, interventions and process supervision (supervision, evaluation and intervision - peer-assisted discussions)
• Personal therapeutic process, recognition of individual capabilities and limitations and integration of equitherapy in the therapeutic or educational methodology of primary occupation. Development of specialisation.
• Assessment of the therapeutic processes, evaluation methods and reporting techniques
• Basic educational and psychotherapeutic principles of SHP-E(NL) equitherapy
• Definition of equitherapy and its various specialist fields
• Indications and contraindications for equitherapy
• Theoretical basis and approach
• Physical experience and non-verbal communication
• Personality issues arising from interacting with horse and client
• Therapeutic performance and safety aspects
• Working with horses
• Training the therapy horse
• Mental health of the therapy horse
• Structure and sequence of therapy sessions and therapy planning
• Preliminary assessment and discussions with client and referrer
• Target setting and process control
• Inter-disciplinary cooperation
• Ethical and behavioural guidelines
• Development of behavioural criteria for process evaluation
• Knowledge, understanding and evaluation of process
• Establishing a human-horse working relationship and its value within the therapeutic setting
• The triangular relationship between therapist-client-horse and responsibilities, functions and objectives
• Creating the primary structure for the therapeutic process
• Creating the possibility sphere
• Horsemanship, riding techniques and the psychology of the horse
• Knowledge and practice of traditional equine management and healthcare
• The effect of stable management, training conditions and mental health of the therapy horse
Individual process-based topics
• Self-awareness
• Self-discovery
• Feedback
• Observation, intervision, supervision
• Me and the horse - status report (observation and evaluation of personal process)
Supplementary riding modules
• Anxiety and riding
• Psychomotor skills: establishing independent sitting and giving commands
• Sport physiology and sport psychology
• The psychology of horse and man
• Lunging during training and with clients Course structure, organisation and allocation of hours

• 1/3 theory and literature study
• 1/3 practical exercises and self-awareness
• 1/3 structuring, formulating and evaluating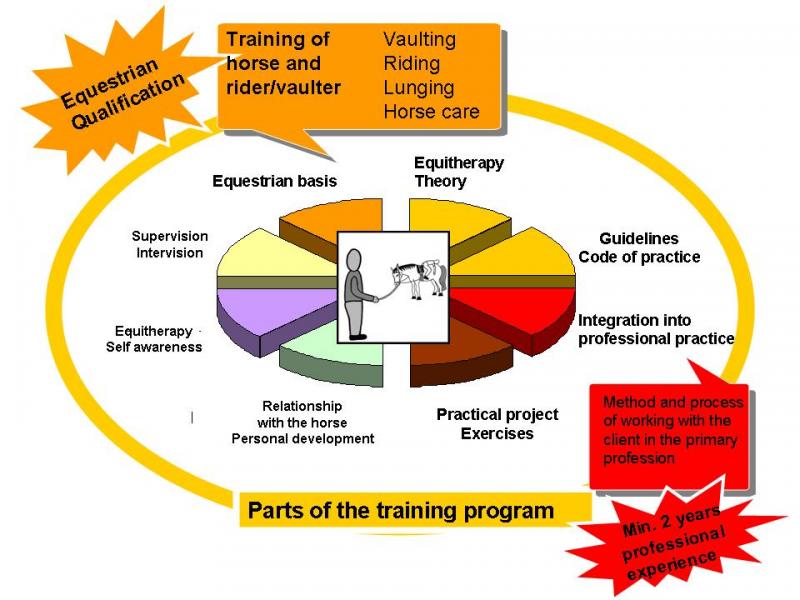 Individual training path Intermediate and final examination
At the end of the first year, the trainee equitherapist must be capable of conducting a preliminary assessment, devising a treatment plan and organising 10 equitherapy sessions with a (pseudo) client and a therapy horse with peer-assisted intervision from a fellow trainee. Training is intervision- based and the student must also demonstrate that he can create something independently and, despite difficulties,see it through. The student is permitted to make mistakes, but must have the required level of critical analysis. He must demonstrate that he was able to put into practice the theoretical principles acquired during the course. The practical project is assessed on the basis of standard criteria by means of an oral examination in which the following points are assessed on a scale of 1 - 10:

1. Process understanding and process supervision
2. Practical performance
3. Chosen method
4. Client relationship
5. Horse relationship
6. Professional manner
7. Safety and consideration of general equitherapy standards
8. Critical attitude and critical analysis of own performance

Students are additionally required to answer theoretical questions from the syllabus. Students who successfully pass the intermediate exam may then go on to the second phase of the course: They then take a final examination on the same basis.Students should then have acquired the necessary skills to become an equitherapist. The practical project The aim of the practical project is to familiarise trainee equitherapists with all aspects of their future career. Participants very quickly realise whether they possess the necessary drive to design and implement a course of therapy independently.
The supervision that takes place provides a context for training and standards. Participants tend to find the practical project an very positive, but also extremely challenging experience. On completion they admit to having learnt a great deal about themselves and to have a better understanding of their strengths and weaknesses in their role as therapist, which they can then address professionally in their work.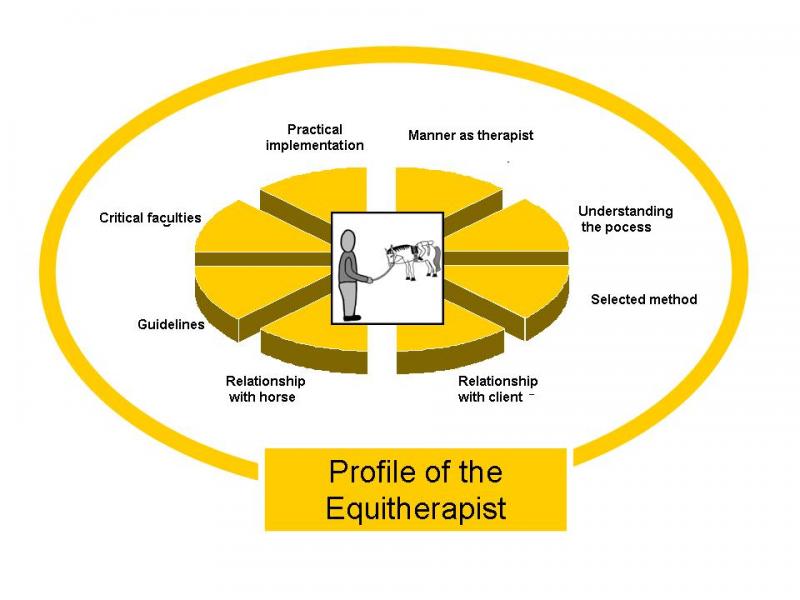 ---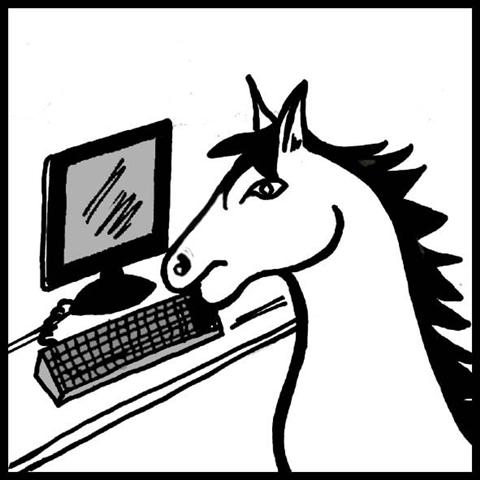 Copyright:
No part of this publication may be reproduced or published by print, microfilm placement

on internet or by any means without the prior permission of the publisher. Citation is allowed

following the scientific citation rules. Author:

U.Thiel

www.equitherapie.org

Date of update